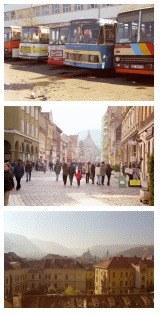 If one get out of the train in Brasov, one have the feeling like at the Balkan. Bustle, homeless people, filth, haggling, pure music from taperecorders, that ubiquitous 'fastfood booths'.
Sometimes, they offer only coffee - an espresso in the cup EUR 0.20 - often additionally still other beverages like beer or coke.
There are however dumpling also, which from mincemeat, similarly cevapcici. One order they to 4, 6 or 8 pieces with mustard and white bread. The variety of the cultures which lives in Romania, will realize one here in Brasov. In the case of the Hungarian 'minority', also absolutely involuntary. Because, Hungary had lost two third of its ground. Many Hungaries suddenly recovered themselves in another country without having changed the place. In comparison to the rest of the city, the pedestrian-zone in the center of Brasov already looks almost like westerly. Here prevails the whole days over active drift. One recognize that Brasov lies in the mountains, not only at the outlook of the hotel room but also at the lower temperatures early in the morning and in the evening. From the mountain of Brasov (865 m high) have you a wonderful outlook about the city and their surroundings.