Ceausescu - The Romanian Neo-Stalinism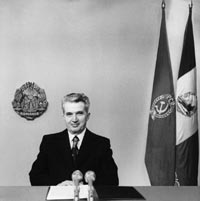 Nicolae Ceausescu, 1981
Source: Corbis
Gheorghe Gheoghiu-Dej became first Communist party-boss 1952. He, even Stalinist, promoted the career of Nicolae Ceausescu. During his time, a gigantic concentration-camp was originated in the
Baragan-Steppe
, in which the people were abandoned in free nature. Without roof over the head, the people had to live like animals. At start of the 60's, Romania began to raise the claim to realize the socialism in its own way. 1964, a party-resolution was published, which each interference in inner issues of Romania explicit repulsed. 1967, Bucharest established diplomatic relationships to the Federal Republic of Germany. 1968 protested Ceausescu against the military put down of the 'Prague's Spring' through the Soviet troops! Ceausescu became president in 1974. It began a time of the terror and the spying. The
Securitate
was always and everywhere.
A cult originated about the Ceausescus. Their name was pronounced only in relation with superlatives.
Elena
, his wife, had also big influence on her husband and consequently also on politics and economy. She had completed even no study, nevertheless she was first 'scientist of the people'. She was multiple doctor and member of the academy of the sciences. She collected awards and titles like other stamps. Although there was already enormous industrialization- and residential-construction-programs in the 70's, in the 80's the plans Ceausescus, Romania to promote to an 'example-state', became more and more extremely. A
codification-program
was planned, approximately half of all villages should be demolished. The farmers would have to work in agricultural-industrial complexes. The country should also become prolific. Therefore,
contraceptives
were strictly prohibited. Abortions were only women allowed older than 45 or with at least 5 children. Gynecological
compulsory-examinations
in the businesses should pregnancies as early as possibly to discover. After wandering for days through the country, the dictator married couple was arrested at the December 24, 1989. Their execution took place on the following day. The history and the circumstances of the
revolution
, including the arrest and condemnation, are not entire clarified until today. As well the massacres at the demonstrators, which demanded more than 1000 lives. The persons around the new president Ion Illiescu that the power took on in 1990, were the same as before. Today the democracy is slowly in construction.